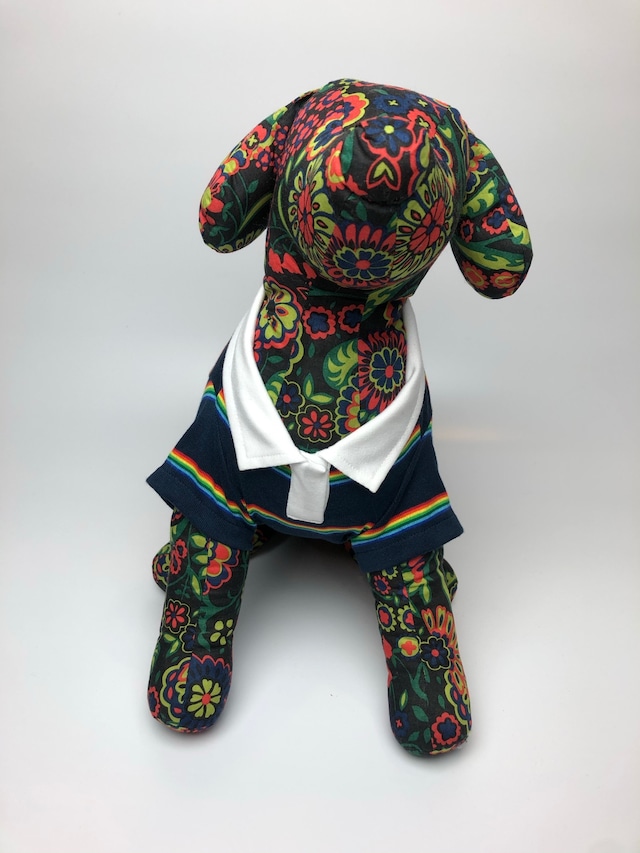 ドッグウェア レインボー ポロシャツ Mサイズ  Dog clothes Rainbow Polo Shirt Msize
*Earliest delivery date is 12/19(Tue) (may require more days depending on delivery address).
Shipping fee is not included. More information.
この商品は海外配送できる商品です。
レインボーボーダーのワンちゃん用ポロシャツ

本体の生地はTシャツでよく使われている薄手のストレッチ素材でワンちゃんの肌にも優しい綿100%

スナップボタンは赤、ネービー、黄色、ピンク、水色からお選びください。
写真の青がネービーに変更になります。
※Mサイズはボタン2つ

【サイズ】
首周り 約34cm 胸囲 約47cm
体重 ~6kg
前丈 約24cm 後丈 約29cm

トイプードル、ジャックラッセル、キャバリア、シーズー、等

【素材】
綿100%

ハンドメイドですので若干のサイズのブレはご了承下さい。

3L~8Lまでオーダーメイド賜ります。
3L 首周り45.5cm 胸囲64cm 体重~15kg 前丈33cm 後丈42.5cm
 ボーダーコリー、ダルメシアン ¥4000
4L 首周り51cm 胸囲75cm 体重~25kg 前丈43.5cm 後丈56.5cm
  ボーダーコリー、ブルテリア ¥4500
5L 首周り58cm 胸囲85cm 体重~35kg 前丈49.5cm 後丈60cm
  ゴールデンレトリバー、ラブラドールレトリバー、ハスキー ¥5200
6L 首周り66cm 胸囲95cm 体重~40kg 前丈51.5cm 後丈72cm
  ドーベルマン、シェパード ¥6200
7L 首周り72cm 胸囲105cm 体重~45kg 前丈58.5cm 後丈79cm
 バーニーズマウンテンドッグ、秋田犬 ¥6700
8L 首周り78cm 胸囲115cm 体重~55kg 前丈64cm 後丈87cm
  セントバーナード、グレートピレニーズ ¥7200
お気軽にご連絡下さい。

Rainbow border polo shirt for dogs

Choose snap buttons color from red, navy, yellow, pink and light blue.
※Msize has two buttons

【Size】
Neck 34cm Chest 47cm
Weight ~6kg
Front length 24cm Back length 29cm

Toy Poodle, Jack Russell, Cavalier, Shih Tzu, etc 

【Material】
Cotton 100%

As it is handmade, please understand that there may be some size blurring.

Made to order from 3L to 8L.
3L Neck 45.5cm Chest 64cm Weight~15kg Front Length 33cm Back Length 42.5cm
 Border Collie, Dalmatian ¥4000
4L Neck 51cm Chestt 75cm Weight~25kg Front Length 43.5cm Back Length 56.5cm
  Border collie, Bull terrier ¥4500
5L Neck 58cm Chest 85cm Weight~35kg Front Length 49.5cm Back Length 60cm
  Golden retriever, Labrador retriever, Husky ¥5200
6L Neck 66cm Waist 95cm Weigh~40kg Front Length 51.5cm Back Length 72cm
  Doberman, Shepherd ¥6200
7L Neck 72cm Waist 105cm Weigh~45kg Front Length 58.5cm Back Length 79cm
  Bernese Mountain Dog, Akita Inu ¥6700
8L Neck 78cm Waist 115cm Weigh~55kg Front Length 64cm Back Length 87cm
  St. Bernard, Great Pyrenees ¥7200
Please contact us.
Add to Like via app
Reviews

(3)

Shipping method / fee

Payment method