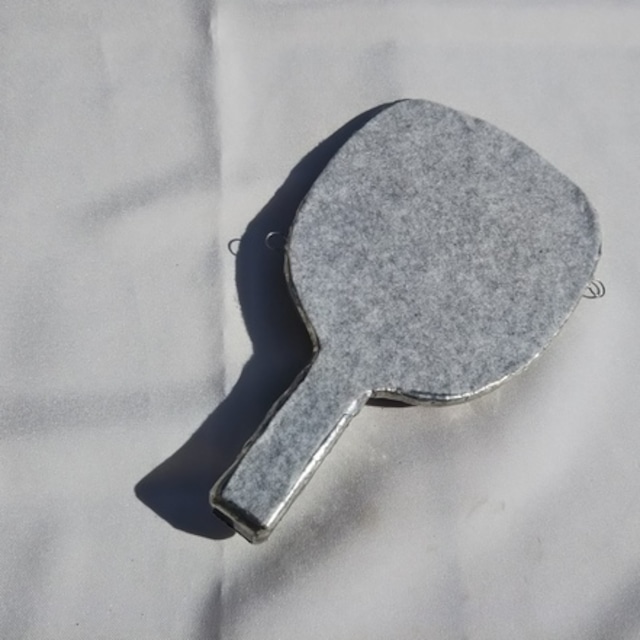 ステンドグラス 虹色かがみ ~ピンポンダッシュVer~ 懐かしのペンホルダー型 Stained Glass Rainbow Table Tennis Racket Mirror
*Earliest delivery date is 6/7(Wed) (may require more days depending on delivery address).
Shipping fee is not included. More information.
卓球のラケットをモチーフにした鏡。

ステンドグラスの手法で作成しています。

裏面にはグレーのフェルトを貼っています。

上下2ヵ所にマルカンをつけており、壁掛けにもなります。

【サイズ】
全長: 縦 約22cm × 横 約12cm
持ち手部分: 縦 約8.5cm × 横 約2cmの立体

【素材】
ガラス
半田(鉛とスズの合成)
フエルト ポリエステル100%

※同じ品番の硝子でも、若干の差異がございますのでご了承下さい。

※銀色の部分は半田(鉛とスズの合金)となり、錆る事があるため、水分が付着した際は、よく拭き取って下さい。

※お手入れ方法は、必要時クロス磨きを推奨しています。


A mirror with a tennis racket as a motif.

It is created by the stained glass method.

Gray felt is pasted on the back side.

Jump ring is attached to the top and bottom in two places, and it can also be hung on the wall.

【Size】
Full Lenght: Length 22cm x Width 12cm
Handle part: Length 8.5cm x Width 2cm

【Material】
Glass
Solder (synthesis of lead and tin)
Felt: Polyester 100%

※ Please note that there are some differences even if the glass has the same part number.

※The silver part becomes solder (an alloy of lead and tin) and may rust, so if moisture adheres, wipe it off well.

※ We recommend cleaning the cloth when necessary.
Add to Like via app
Reviews

(3)

Shipping method / fee

Payment method